If you can hum, you can play the Kazoo.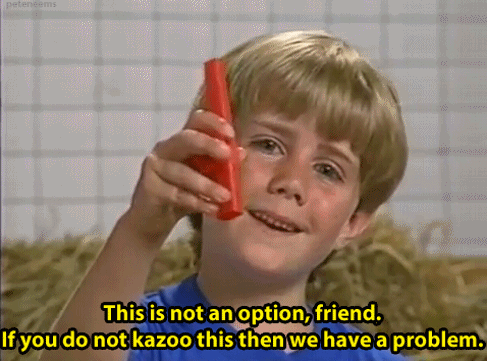 The Kazoo doesn't have any keys or tuning devices.
The music is created by humming into the instrument.
(Technically, this makes the Kazoo a membranophone or mirliton.)
The first kazoos were made from hollowed out bones, with spider egg sacs for the vibrating membrane!
For centuries, similar vibrating and voice-changing instruments have been used for ceremonial purposes in Africa.
Players can produce different sounds by singing specific syllables such as doo, who, rrrrr or brrrr into the kazoo.
A popular belief is that Alabama Vest, an African-American in Macon, Georgia,  invented the kazoo around 1840.
There is no documentation to support that claim.
In any case, the Kazoo hummed its way into the world as the "Down South Submarine" in 1852 during the Georgia State Fair.
You can kazoo weird sounds as well as whole songs.
It makes strange background noises –  if you do it right.
Visit the Museum for kazoos shaped like famous cartoon characters, electric kazoos, and 100-year-old Kazoos.
Izzy Humair recently got Twitter famous for covering popular songs on Kazoo.
(She blew"Mr. Sandman"  through 13 kazoos.)
Don't play the Kazoo?
Check out Mystery Kazoo Man on Fiverr.
For a small fee, he will write your message on his chest whilst playing Kazoo.