The vast majority — approximately 85% — of cases of homosexuality in humans are caused by ghosts, says a report by the Spiritual Science Research Foundation or SSRF.
Spiritual research has shown that the cause for homosexual preferences lie predominantly in the spiritual realm.
Physical causes (5%): Due to hormonal changes.
Psychological causes (10%): Having an experience with a person of the same sex as a teenager or young adult that was pleasurable and therefore wanting to experience it again.
Spiritual causes (85%): Mainly ghosts.
Love the scientific rigor : mainly ghosts.
But nothing says "Science" like a pie chart :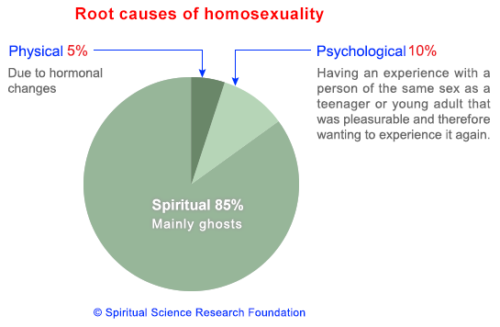 Apparently, the main reason behind the gay orientation of some men is that they are possessed by female ghosts while lesbians are possessed by female ghosts.
Here's a 15 minute (!) video of their many other beliefs :
H/T Improbable Research